UNIQUE TEAM BUILDING PROGRAMS:
Want to take your teambuilding programs up a notch? Here are six unique programs along with sample destinations and promotional products to enhance your teambuilding experiences.  Our team at GS Promo Source (GSPS) can custom tailor your event or team building exercise to any adventure.  We are your destination for promotional products.  More than that, the professionals at GSPS provide SOLUTIONS to your problems.  Call us today at 860-304-2899
Go Underground: Groups can enjoy the spelunker experience by navigating through cave complexes using maps to reach designated destinations. In typical exploration sessions, each team member is assigned a role. Leaders are responsible for group well-being. Learning sessions promote communication skills and show how strategies can be improved as participants gain insights that can be integrated into work environments. Participants assist each other in unfamiliar situations that challenge comfort zones and bring cohesiveness into play to overcome fears. While the guides' main roles are to ensure safety, they're also on hand to interpret the cave's natural history.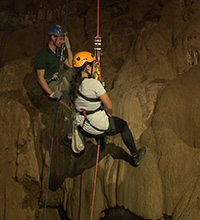 Promotional Gifts: logoed headlamps and flashlights, glow sticks, gloves and whistles.
Sample Destination: Moaning Cavern Park, Vallecito, CA, www.caverntours.com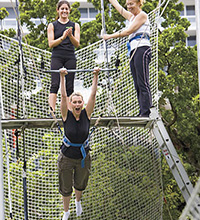 Fly Through The Air: Flying trapeze teambuilding programs engender feelings of involvement and team spirit as your group reaches for the heights. Programs start with safety training before anyone sets foot on the trapeze. These activities produce aerial dynamics that bolster cooperation, efficiency and courage. The objective is to build team spirit and create new bonds to face the challenges of demanding business environments. Sessions usually rotate through challenge stations with increasing levels of difficulty and can be tailored to the groups' time and budget.
Promotional Gifts: trapeze-shaped belt buckles, workout monitors, exercise clothes and headbands.
Sample Destination: Trapeze School New York, six U.S. locations, www.trapezeschool.com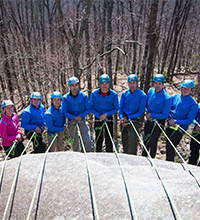 Climb A Mountain: Rock climbing and rappelling programs are fantastic ways to create strong bonds and improve communication skills while setting and achieving goals. Courses teach the simplest forms of outdoor rock climbing and rappelling, emphasizing the skills of climbing knots, belaying, anchors and movement. These programs present teamwork as a natural solution to overcoming intense mental and physical challenges.
Promotional Gifts: carabineers, binoculars, climbing vests and hats.
Sample Destination: Fox Mountain Guides and Climbing School, multiple Southeast locations,
www.foxmountainguides.com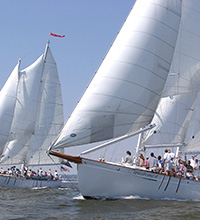 Race A Yacht: These waterborne regattas are designed for sailors and non-sailors alike and physical condition is never an issue; it's about fostering teamwork through a desire to win. Team members begin by practicing crew positions and learn to work together as a cohesive team; skills that will later prove valuable in business environments. Rating systems allow for handicapping so that all boats are judged equal at the finish. There's plenty of action, tacking upwind, rounding the marks and running downwind. Before returning to the dock for the awards celebration, each team will have the duration of the regatta to pleasure sail and explore the waterway.
Promotional Gifts: boat bags, compasses, binoculars and nautical jewelry.
Sample Destination: Schooner Woodwind, Annapolis, MD, www.schoonerwoodwind.com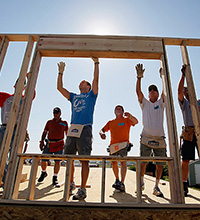 Build A House: Your team will learn building skills that improve communications and develop cooperation and camaraderie through interacting with coworkers from all levels of your corporate hierarchy. These efforts work to build morale and team spirit and forge bonds by working toward a common goal. In addition, the program fees provided to Habitat For Humanity are fully tax deductible. Habitat For Humanity can also provide access to their branding so that your company logo can be combined with Habitat's to use as a powerful marketing tool. Best of all, it's for a great cause.
Promotional Gifts: tape measures, calculators, tool kits, gloves, T-shirts and hats.
Sample Destination: Contact Habitat For Humanity to locate programs www.habitat.org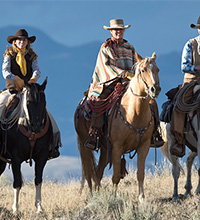 Join A Cattle Drive: Your group will learn cowboy management techniques when you send them on a cattle drive. Most cattle ranches are located in areas of natural beauty that offer scenic cattle work accompanied by spectacular vistas, including pine forests, alpine meadows and mountain lakes. Your teambuilding group will learn the organizational skills required to trail cattle and move herds across water and up and down hills; skills that will come in handy when it's time for your staff to round up new customers.
Promotional Gifts: Western gear including logoed cowboy hats, jewelry and belt buckles.