Mysteryland, the longest running electronic dance music (EDM) festival in the world, made its U.S. debut over the Memorial Day weekend at the iconic Woodstock grounds in Bethel Woods, NY, by telling attendees to "take a trip down the rabbit hole." Unlike the original Woodstock concert, attendance was strictly enforced and limited to 20,000, with ticket prices starting at $179, and VIP passes going for $299. According to The Wall Street Journal's Market Watch, the EDM market is estimated to be close to $20 billion and is growing by over 10% every year.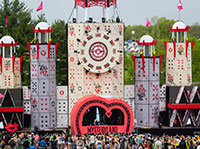 ID&T, the festival powerhouse behind Mysteryland, hosted top acts like Kaskade, Dillon Francis, Moby, Steve Aoki, Nervo, Showtek and Fedde Le Grand on the main stage. The Boat Stage, which catered to bass-hungry fans, featured Zomboy, Flosstradamus, Big Gigantic and Bro Safari. "Sunday School," a mini festival within Mysteryland, offered three stages of the sounds of techno, tech-house and vinyl-only DJs. Hardstyle fans could throw their bodies to Coone, Noisecontrollers and Brennan Heart in the Q-Dance tent. If fans needed time to rest their feet (and ears), they could venture to the "Healing Garden" for yoga, meditation or aromatherapy. Among this eclectic mix of music, dance and art, there was also an abundance of fun branded promotional products.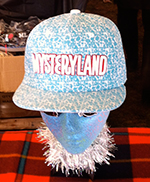 One of the main sponsors of Mysteryland USA was Rekorderlig Cider from Sweden. Friendly Rekorderlig vendors decked out in red logoed polos happily offered free samples of their Strawberry-Lime, Berry or Pear flavored hard cider. They also gave soaked dancers Rekorderlig branded ponchos for the intermittent downpours throughout that Saturday afternoon. One of the promoters explained that the plastic pouch the ponchos came in could act as a waterproof case for cell phones.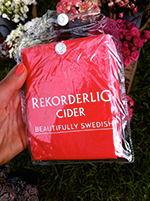 A popular meeting place for separated friends was the prominent Rekorderlig hot-air balloon. One of the perks to visiting the hard cider vendor was the chance to win a balloon ride over the lush fields where, 45 years earlier, concertgoers danced to Hendrix, Santana, Joplin and other top acts.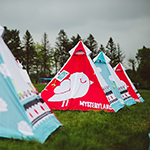 On the trail to the main stage, attendees were greeted by another Rekorderlig booth that sold garland crowns for $20. Many of the female guests got in touch with their inner flower child and chose from a variety of colorful blossoms to be custom-fit around their heads, staying true to the Rekorderlig slogan, "Beautifully Swedish."
Aside from Rekorderlig, there was a plethora of Mysteryland merchandise, which featured the Mysteryland and/or Woodstock '69 logos on apparel, hats and headbands. Rookie campers were also able to buy blankets, sleeping bags and other outdoor necessities. Mysteryland offered "Holy Ground" campers their own camping survival kit, with a two-person tent, airbed and sleeping bags. Festival-goers were able to purchase unique meals and snacks from Smorgasburg Food Fest. Smorgasburg is a food market held every Saturday in the hipster Brooklyn town of Williamsburg, who partnered with Mysteryland to offer organic, vegan and other food options.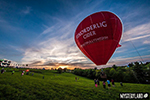 Mysteryland was one of the first "cashless" U.S. music festivals. Attendees were able to put money onto their logoed wristbands either online or at stations throughout the festival grounds. Their credit changed into "birdie bucks" to pay for food, beverages, merchandise or showers throughout the weekend. The leftover money was then refunded back onto the provided credit card. The birdie bucks wristbands allowed for quicker service in the long lines for showers and food.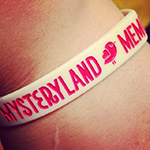 With the help of sponsors such as Rekorderlig and many others, Mysteryland was able to successfully offer a mecca for fans of all EDM genres to come together to explore and dance in the historical grounds that inspired a revolution of music, fashion and a state of mind back in 1969. And with logoed keepsakes, the memories from Mysteryland are guaranteed to live on.