When the
Baltimore Orioles
released their 2014 promotion schedule for its 60th anniversary season, they noted it was one of the ball club's "most robust promotional calendars in club history, filled with many new items, as well as several returning fan favorites" slated for giveaways throughout the season.  It can't just be coincidence that the team finished first in the America League East Division, claiming their first division championship since 1997.
"Apparel is an extremely popular giveaway, not just in Baltimore, but throughout Major League Baseball," says Greg Bader, Orioles' vice president of marketing and communications. He says that T-shirts, caps and other apparel have a high value for fans, as they can get multiple uses out of the giveaway items.  GSPS (GS Promo Source) has thousands of promotional items on it's website at www.gspromosource.com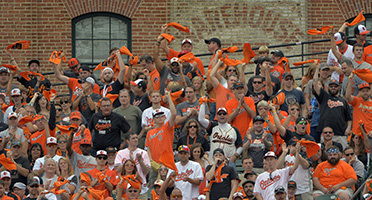 "Additionally, it's good for a brand to provide apparel for fans to wear throughout the marketplace as it helps promote the brand image and identity," he adds. Indeed, Oriole-branded apparel was distributed at 15 of the 24 home games, when merchandise was given to fans during its anniversary season.
The Orioles' promotional schedule in 2014 featured six separate T-shirts that were provided to all fans in attendance. "We even allowed our fans to choose their sizes (medium or XL) for the first time in club history," Bader points out.
There were six hat giveaways this year, including the Orioles' classic floppy hat (similar to Gilligan's hat on the famed 1960s TV series), a Father's Day Fedora and, for the first time, a Wild Bill cowboy hat.
"All of our hats ended up being popular in 2014, but the Wild Bill hat was perhaps the most popular," says Bader. "It was the first time we had ever given away this style hat, and since it was in honor of 'Wild Bill' Hagy, one of the most famous Orioles' fans of all time, and in celebration of our 60th anniversary, the promotion was extremely well-received." The Wild Bill hat was distributed on August 9 to the first 20,000 fans ages 15 and older.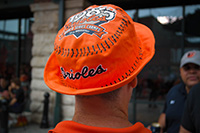 In July, Baltimore sports reporters Zach Wilt and Jabby Burns debated the merits of the floppy hat vs. the fedora on Baltimore Sports Report. Burns called the Orioles' fedora the "new, hip way of the future" while Wilt praised the classic floppy hat.
"When the Orioles' promotional schedule comes out, the first thing you look for is Floppy Hat Night," Wilt said. "When you think Orioles' promotions, you think floppy hat!" The floppy hat promotion has been going on since at least the days of Memorial Stadium (pre-Camden Yards) – more than 25 years, says the Orioles' Bader. He adds that Miller Lite has sponsored nearly all of the floppy hat giveaways, which are distributed to fans ages 21 and over.