HARRY POTTER FANS LOAD UP ON CURSED CHILD GIVEAWAYS
The release of the latest Harry Potter book once again cast a spell on thousands of the wizard's biggest fans, who congregated in midnight parties across the country while dressing up in costume and angling for giveaways.
They all eagerly awaited the release of Harry Potter and the Cursed Child, which (long after the series was thought to be concluded) returns to the Potter universe to follow Harry as an adult and father of three children. The book is a printed script from the London play penned by Potter author J.K. Rowling and other collaborators. With anticipation sky high – it was the most pre-ordered book in Barnes & Noble history – publisher Scholastic chose to release the book at midnight on Sunday, July 31, as was traditionally done with Rowling's other Potter titles.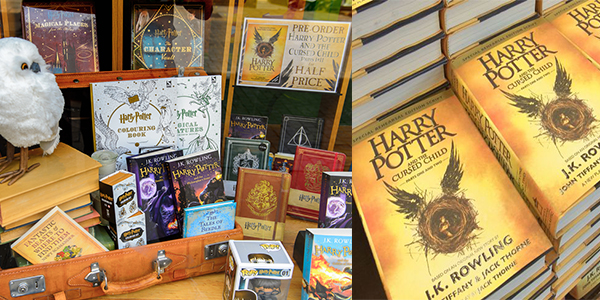 Bookstores throughout the U.S. celebrated with midnight release parties that included costume and trivia contests, readings from the series and latest book, a Hogwartsian "Sorting Ceremony" and all manners of games and activities.
Included among them was a whole host of giveaways. New York-based Books of Wonder offered a bevy of free premiums, including a set of full-color prints of each book cover, a full-color holographic Harry Potter bookmark, a lightning bolt temporary tattoo and decals for Fantastic Beasts and Where to Find Them, a side book in the Potter universe penned by Rowling that is being made into a movie. Any patron that purchased two or more Harry Potter hardcover titles that night also received a free full-color mug with images of Harry from the seven book covers. More Potter prizes – including bookmarks, keychains, posters and even a signed first U.S. printing of The Prisoner of Azkaban­ – were won by customers who bought the book and then drew from the "Books of Wonder Sorting Hat."
Others joined in with the giveaways. Skylight Books in Los Angeles offered Harry Potter tattoos and pins. Harvard Square in Cambridge, MA, was transformed into "Hogwart's Square," with a movie screening, Harry Potter selfie stand and giveaways that included tattoos, decals and Wizard Glasses. Target even offered an exclusive poster for people who purchased the book.
"The announcement was that it was a play in script form, [and] we weren't sure how it was going to be received," Bryan Samsone, manager of Austin, TX-based BooPeople, told Entertainment Weekly. "But it became pretty apparent quickly after word came out that people still wanted to congregate together to celebrate Harry Potter, dress up, and relive all these memories that formed their childhood."